Across the Broad Atlantic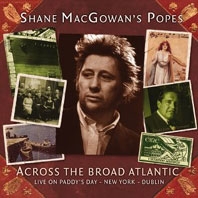 I'm fairly sure the title from this one must come from some literary source, but so far all I've been able to track down is that the WolfeTones used the same title for an album in 1993, and the phrase turns up in the chorus to the trad tune Goodbye Mick (the link takes you to the full lyrics; thanks to Ned for passing them along).
Popes Instrumental
According to the liner notes, the three songs in this instrumental are: My Ballyvourney Love, The Limpin' General and Bag of Chips. "Bag of Chips" is a reworking of Bring Down the Lamp from Shane's "The Snake" release. The other two tunes sound really familiar too. Ballyvourney calls to mind bits of Squid out of Water (a Pogues B-side on Rainy Night in Soho 7"), but I'm not sure now. I'd welcome further input in identifying the sources.
Granuaille
This traditional song relates to Granuáile (1530-1603), a name usually transliterated into English as Grace O'Malley (I think there's a typo on the cd release; I haven't seen any sources with the two "Ls" at the end). She lived in Connaught, during the reigns of Henry VIII and Elizabeth in England. Her father was Owen "Black Oak" O'Malley, chieftain of the Umhall Uachtarach, and her life has been heralded in song and story for its heroineism (I'm not sure if that's even a word, and, if true, doesn't that tell us much about the male bias of the language) in defense of traditional Irish ways in the face of the English onslaught. There's tons of information about her around the web, but this link is worth a look. As for the pic, thanks to Dean for passing it along (and if we needed another reminder of the male dominated culture we inhabit, I suppose the pic is as good as any). I have a hard time (no pun intended) imagining the Pirate Queen fighting the English in this attire. Dean was also kind enough to pass along the full lyrics. Here they are:
Granuaile
All through the north as I walked forth for to view the shamrock plain
I stood awhile where Nature smiles amid the rocks and streams
On a matron mild I cast my eyes beneath a fertile vale
And the song she sang as she walked on was, My poor old Granuaile.

Her head was bare and her grey hair over her eyes hung down
Her neck and waist, her hands and feet with iron chains were bound
Her pensive strain and plaintive wail mingled with the evening gale
And the song she sang with mournful tongue was, My poor old Granuaile.

The gown she wore was bathed with gore all by a ruffian band
Her lips so sweet that monarchs kissed are now grown pale and wan
The tears of grief fell from her eyes, each tear as large as hail
None could express the deep distress of my poor old Granuaile.

Six hundred years the briny tears have flowed down from my eyes
I curse the day that Henry made of me proud Albion's prize
From that day down with chains I'm bound, no wonder I look pale
The blood they've drained from every vein of poor old Granuaile.

On her harp she leaned and thus exclaimed, My royal Brian is gone
Who in his day did drive away the tyrants every one
On Clontarf's plain against the Danes his faction did prepare
Brave Brian Boru cut their lines in two and freed old Granuaile.

With blood besmeared and bathed in tears, her harp she sweetly strung
And o'er the air her mournful tune from one last chord she wrung
Her voice so clear fell on my ear, at length my strength did fail
I went away and this did say, God help you, Granuaile.
Chris passed along this version of the lyrics too:
My Dream to some with joy will come and comes with grief to more,
As it did to me, my country, that dear old Erin's shore;
I dreamt I stood upon a hill beside a lovely vale,
And it there I spied a comely maid and her name was Ganualile

Her lovely hair hung down so fair, and she was dressed in green,
I thought she was the fairest soul that e'er my eyes had seen;
As I drew near, I then could hear, by the pleasant morning gale,
As she went along she sang her song, saying: "I'm poor old Granuaile."

In O'Connell's time in '29 we had no braver men.
They struggled hard both day and night to again our rights again;
Still, by coercion we were bound and our sons were sent to jail,
"You need not fret, we'll freedom get." Says poor old Granuaile.

I thought she had a splendid harp, by her side she let it fall
She played the tunes called Brian Boru, Garryown, and Tara's Hall.
Then God Save Ireland was the next, and Our Martyrs who died in Jail,
"You need not fret, we'll have freedom yet." Says poor old Granuaile

When I wakened from my slumber and excited by my fright,
I thought it was the clear daylight, and found that it was night:
I looked all round and could see naught but walls of a lonely jail,
And that was the last I ever say of poor old Granuaile.